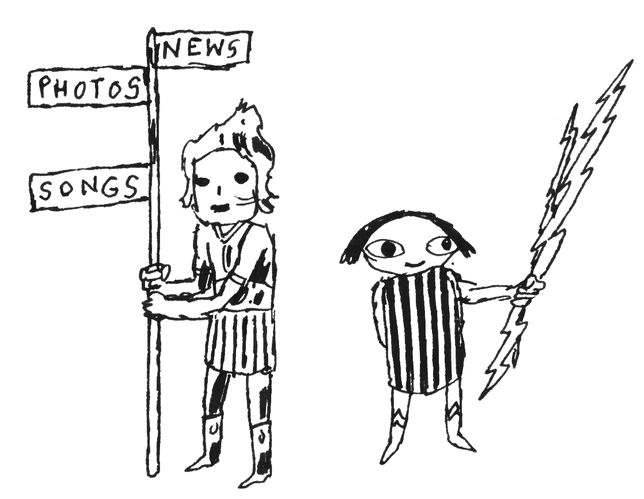 ---
The Metal East - Live at Thalia Hall from Audiotree.
Chicago Mixtape features Lightning Bolt.
25 years... hard to imagine a world without Load.
Oooops... forum is down...
SHOWS
2.20. AMC EMPIRE 25 NYC
2.21 ELSEWHERE BROOKLYN
2.27 (BLACK PUS) PROV MWM
3.22 DC9 DC
3.23 OTTOBAR BALTIMORE
3.24 KINGS RALEIGH
3.25 BIG EARS FEST KNOXVILLE
3.26 HEADLINERS LOUISVILLE
3.27 EL CLUB DETROIT
3.28 THALIA HALL CHICAGO
3.29 GROG SHOP LAND OF CLEVES
3.30 CLUB CAFE PITTSBURG
3.31 FIRST UNITARIAN PHILLY
4.01 SINCLAIR BOSTON
4.27 DONAU FEST KREMS
4.28 UT CONNEWITZ LEIPZIG
4.29 KREUZBERG BERLIN
4.30 UEBEL @ GEFAEHRLICH HAMBURG
5.01 PARADISO NOORD AMSTERDAM
5.02 ROTONDES LUXEMBURG
5.04 (BLACK PUS) UNCANNY VALLEY GHENT
5.05 UNCANNY VALLEY GHENT
5.07 GARAGE LONDON

FANTASY EMPIRE
Antigravity interview.
Skinny interview.
Listen to Fantasy empire streaming from NPR.
A new track and interview released on Rolling Stone
Lightning Bolt's new album, Fantasy Empire, will be released by Thrill Jockey on March 24th. You can pre-order LP/CD/shirt direct from Thrill Jockey, or downloads from iTunes US or iTunes UK. And there's a new interview with Pitchfork.
OTHER STUFF
Thumper now available!
smartbassguitar.com interviews Gibson.
New LB song Barbarian Boy part of Adult Swim's summer song series.
Some new music at bandcamp!
Recent Chippendale stuff: Art show, Puke Force, & Blog.
Black Pus LP "Primordial Pus" out now on Load Records.
If 'n Oof is out! Chippendale's 800 page comic book adventure!
Brian Gibson thing at motherboard.tv
The ALL TOMORROW'S PARTIES movie is out now. Trailer here. Order the DVD from warpfilmstore.com
"Earthly Delights" is available from Load Records and elsewhere - see the reviews.
Chippendale talks about Sun Ra on xlr8r.com
Interview at rockfeedback.com
The Power of Salad movie is now available from iTunes.
Official, really, myspace page: http://www.myspace.com/lightningboltbrians
Nice article & interview.
Chippendale plays on the new Bjork song, which is being released to raise funds for the Nattura Environmental Campaign.
Nice new video from Live Eye TV.
Gibson's new Barkley adventures are online.
Both Brians appear on the compilation DVD Everything I own is Broken or Bent from Corleone Records.
Gibson animation project "Barkley's Barnyard Critters - Mystery Tail" is available from Load Records
Reviews

Online discussion:


deadcowboy.proboards100.com
www.livejournal.com/community/ride_the_skies

Other stuff:
Robot game
Wikipedia entry

Contact:
Booking (US) - sam@windishagency.com
Booking(EUROPE)- vincent@odysseybooking.com - www.odysseybooking.com
Other - info@laserbeast.com

Web site by Dave